A single software package for all your portable measurement needs and devices
Overview
Features
Applications
Resources
Overview

SpatialAnalyzer (SA) is an instrument-independent, traceable 3D graphical software platform that makes it easy for users to integrate data from multiple instruments and perform complex tasks simply, ultimately improving productivity.
SA makes it easier for users to:
Inspect parts
Build
Analyze data
Report
Reverse design
Interface with virtually any type of portable metrology instrument
Automate complex operations to improve measurement and inspection efficiencies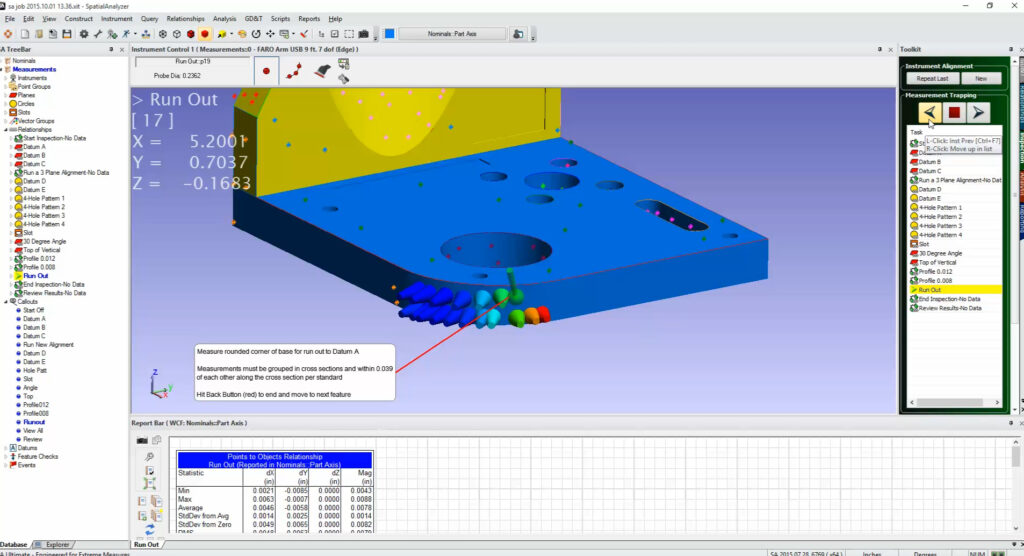 SA helps customers achieve:
Address a broad spectrum of problems ranging from simple to complex
Save time, money, effort, and ultimately improve productivity
Establish ROI and accomplish goals that were previously impossible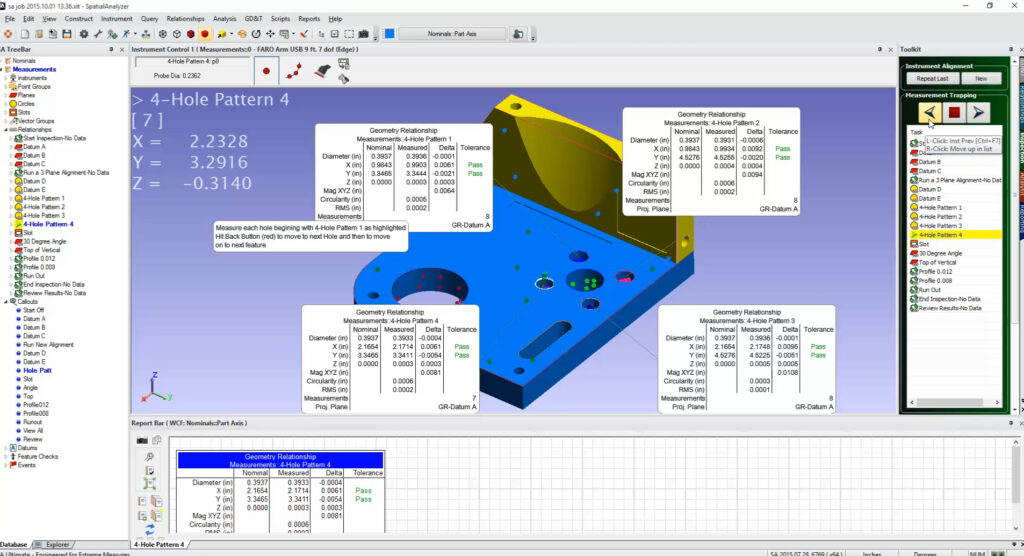 We are a distributor of SpatialAnalyzer in Australia. Please contact us for trial use, demo, sales and support topics.
We also provide remote or onsite training for users from beginner to advanced level. Training topics can be customised.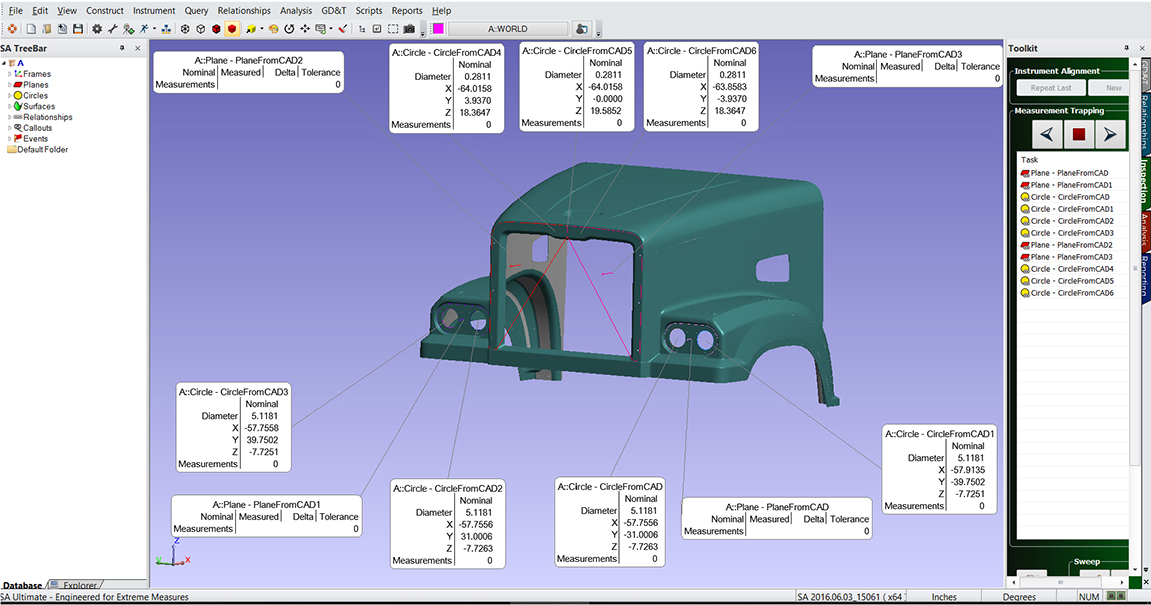 Features
Applications
Resources
SpatialAnalyzer supports a wide range of portable metrology instruments. Below is a list that keeps growing – please contact us regarding supported instruments if you have questions.
Automated Precision Incorporated (API)
Portable CMM Arms
Axxis 6 dof and 7 dof arms
Laser Trackers
API Omnitrac 2
API Tracker II
API Tracker III
API Radian
Auxiliary Devices
Faro Technologies
Portable CMM Arms
USB Arms – Edge, Prime, and Fusion
Faro ScanArm (V3, ES, HD)
Gold and Silver Series Arms
USB Arms – Platinum, Titanium, QuantumE, QuantumS, QuantumM, and Edge
Laser Trackers
Vantage, VantageE, and VantageS
Si, S, Xi, X and Ion Trackers
SMX Tracker 4000, 4500
Scanners
Photon/LS/Focus 3D Scanners
Hexagon
Portable CMM Arms
All Romer Absolute, Multi-Gage 6 and 7 dof arms
All Cimcore 6 and 7 dof arms
Perceptron laser line scanner for 7 dof
Laser Trackers
Leica Absolute Tracker 930/960
Leica Emscon Absolute AT 900 series trackers
Leica Emscon AT401, 402, 403
Leica Emscon LT 500 – LT800 series trackers
Leica TP-Link Trackers
Total Stations
Leica Flexline Plus Series Total Stations
Leica Nova MS50 and MS60
Leica Nova Series MultiStations
Leica TC2000, TC2002
Leica TDA5005
Leica TDRA 6000 series
Leica TPS Total Station (2003, 5000,5005)
Leica T1200 series
Leica Viva Series Total Stations
Theodolites
Leica TM6100A Theodolites
Leica TPS (1800, 5100) Theodolites
Leica/Wild (T2000, T2002, T3000)Theodolites
Scanners
Leica Geosystems ScanStation Pxx scanners
Nikon Metrology
Scanner
Metris Laser Radar CLR100, MV200, MV300
GPS Networks
Metris iGPS Surveyor and Surveyor 2
Photogrammetry
Metris K-Series K-Scan and SpaceProbe
Virtek
AICON
Photogrammetry
AICON ProCam 3D Probe
AICON MoveInspect
Assembly Guidance
LaserGuide Projection System
Creaform
Scanners
Geodetic Services, Inc. (GSI)
Photogrammetry
M-System
V-Stars Single Camera
V-Stars Bundle Network Uncertainty Simulation Interface
Laser Projection Technologies (LPT)
LAP
Metronor
Photogrammetry
Metronor Portable Measurement System
Northern Digital (NDI)
Photogrammetry
Surphaser
Scanners
Surphaser 3D Laser Scanners
SwissTek
Theodolites
Topcon (Sokkia)
Total Stations
DS (DX), ES (CX), OS (FX), and PS (SX) Total Stations
Net-1, Net-2, SETX, Net05X, Net05AX
VICON
Photogrammetry
Zeiss
Theodolities
Zoller + Fröhlich (Z+F)
Other notable instruments:
Boeing Laser Tracker
Sandia National Labs Arm
Romer Sigma Arm 2022
Metron Scanner
Nivel 20 Two Axis Level
Thommen HM30 Weather Station
Davis Perception II Weather Station
Scan Alert Temperature Probe
On-Track Laser Line System
Ultrasonic Thickness Gauge
Digital Levels for USMN Networks
It doesn't cost more to get CAD file format support in SpatialAnalyzer. All users have the following CAD formats supported:
IGES, STEP, STL, CATIA®, SolidWorks®, NX®, ProEngineer®, Creo Parametric Inventor, and more.